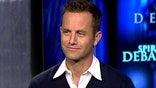 For Lord's Day, September 15, 2013
Dear Saints,
I just saw on the news an encouraging testimony to the truth of Romans 8:28.
Kirk Cameron was just interviewed by Religion Correspondent Lauren Green on FoxNews' "Spirited Debate" about his upcoming movie, Unstoppable, which is itself seeking to understand God's sovereignty in all things as it relates to the personal loss of his 15-year-old friend to cancer earlier this year. Mr. Cameron said that the movie is "about faith, hope, and love in the midst of tragedy."
You might remember my referencing a situation about the promotion of this movie in a sermon a short while ago as an illustration that the world is not neutral toward Christ and His Church.  Facebook (and apparently from this interview, YouTube) took down and banned the movie trailer citing it as "abusive and unsafe".  The trailer was not down for long, thankfully. Also, I am thankful to learn from this interview that the ban was turned around by God to instead draw extra attention and attendance to the movie.
In the interview, Ms. Green said, "They did you the best favor."
Mr. Cameron replied, "They really did. It was so ironic that the group that tried to stop Unstoppable really put the most fuel on the fire and got more people to buy tickets than anyone else."
I couldn't help but think of our recent study in Exodus, "God Turns Things Around", as well as Romans 8:28: "And we know that God works all things together for good to them that love God, to them who are the called according to His purpose."
May this trailer testimony encourage you to remember that God is doing and will do the same for you in His beautiful, sovereign, providential timing (Ecclesiastes 3:11).
Semper Reformanda,
Pastor Grant
PS: You will see a caption and hear a comment in the interview that I know you will recognize I would give an important disclaimer about from Scripture (we have done so not so long ago in Sabbath class together: bad things happen to all people because all people are bad, according to Genesis 3:14-19 an John 3:36 — although of course the "why" is for our good for those who are saved).  Nonetheless, we won't throw out the baby with the bathwater.